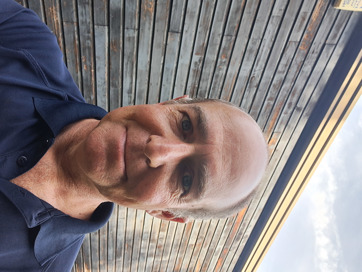 A Hadlow College Apprentice has become the first in the UK to have successfully completed the Level 5 Golf Course Manager 
Apprenticeship standard as well as becoming the first in the UK to achieve a Level 5 Apprenticeship within the land-based sector.
Paul Selbie, who is the Course Manager at Hainault Golf Club in Essex, sailed through his End Point Assessment after studying for the Level 5 Golf Course Management Apprenticeship at Hadlow College, Kent's only rural and land-based college.
As part of the End Point Assessment process, Paul undertook three different components. This included a rigorous three hour recorded golf course walk which included a professional discussion, a presentation delivered to the examiner and a representative panel and an online knowledge examination.
As part of the Apprenticeship Paul also wrote a Royal and Ancient Golf Course policy document and created an extensive portfolio of evidence to demonstrate his knowledge, skills and behaviours.
The Apprenticeship End Point Assessment Organisation Lantra Awards confirmed Paul's achievements.
Jo-Anne Bryan Head of the End Point Assessment Team commented "As an EPA organisation we're delighted that Paul is the first Apprentice to achieve the Level 5 Golf Course Manager programme, having recently completed his EPA. This validates the importance of having a structured progression pathway with levels 2, 3 and now 5 within the suite of Greenkeeping Apprenticeships". 
Paul was delighted to comment "It has been almost 20 years since my last educational milestone and I felt the need to challenge myself further.  The new level 5 Apprenticeship came along at the right time and allowed me to pull together all my learnt knowled
ge and experience into a nearly 2-year course.  A rigorous test of both my managerial and greenkeeping skills, culminating in a tough 2-hour exam, a presentation and 3-hour professional discussion.  Hopefully I can use this qualification as a steppingstone to further my career."
Anthony Stockwell from Hadlow College commented "I am delighted with Paul's achievement. He really deserves this unique success to be the first in the UK as he has shown a driven and determined attitude at all times and I am extremely proud to have had him as a student."


This comes hot on the heels of fellow Hadlow student Daniel Martin, who is studying for a Level 3 Golf Greenkeeping Apprenticeship, being named as the "Toro Young Student Greenkeeper of the Year" last month.
Hadlow College is part of North Kent College, which is one of the country's leading Apprenticeship providers offering a number of Apprenticeships across campuses at Tonbridge, Dartford, Gravesend and Hadlow in a variety of industries.
Find out more about Lantra's end point assessment.